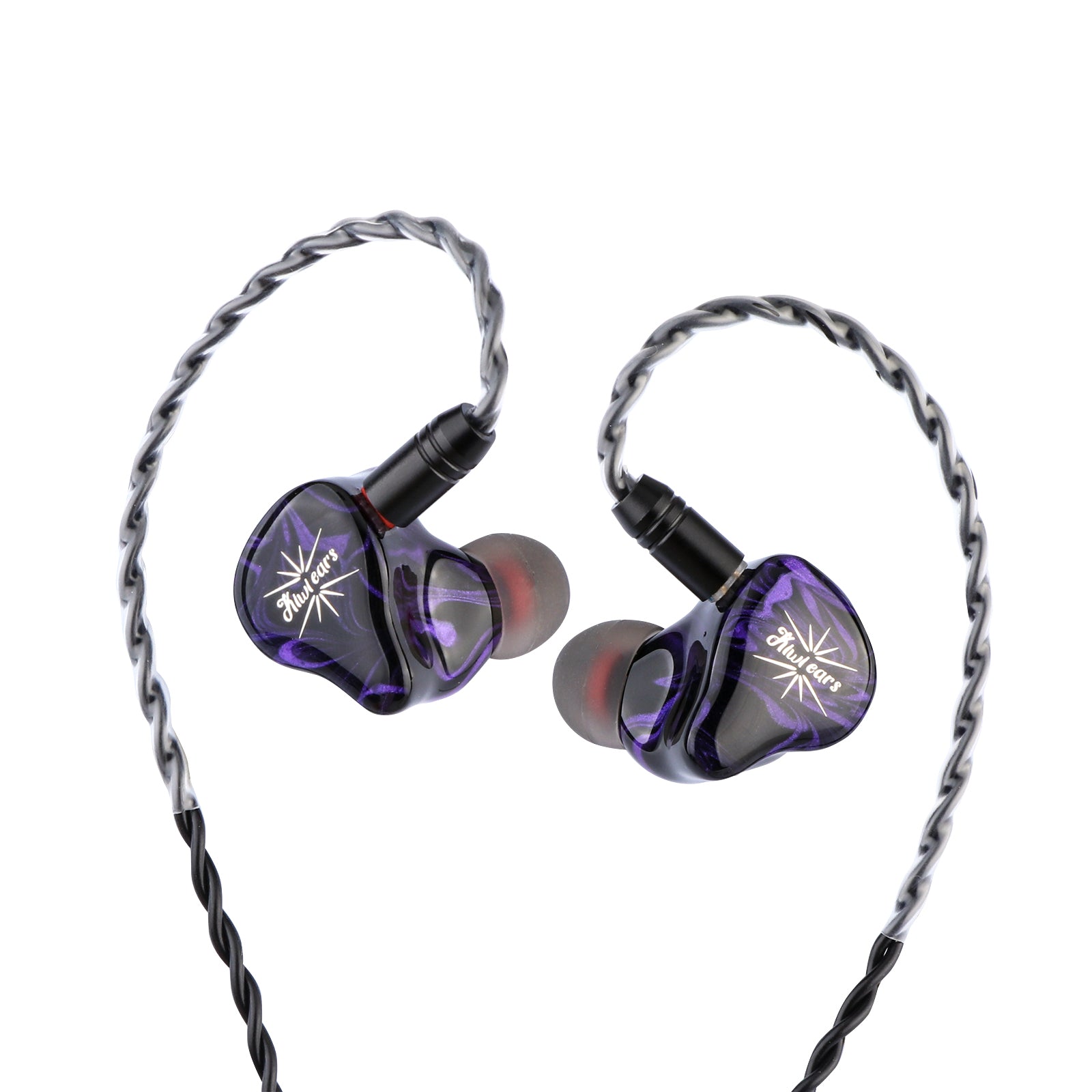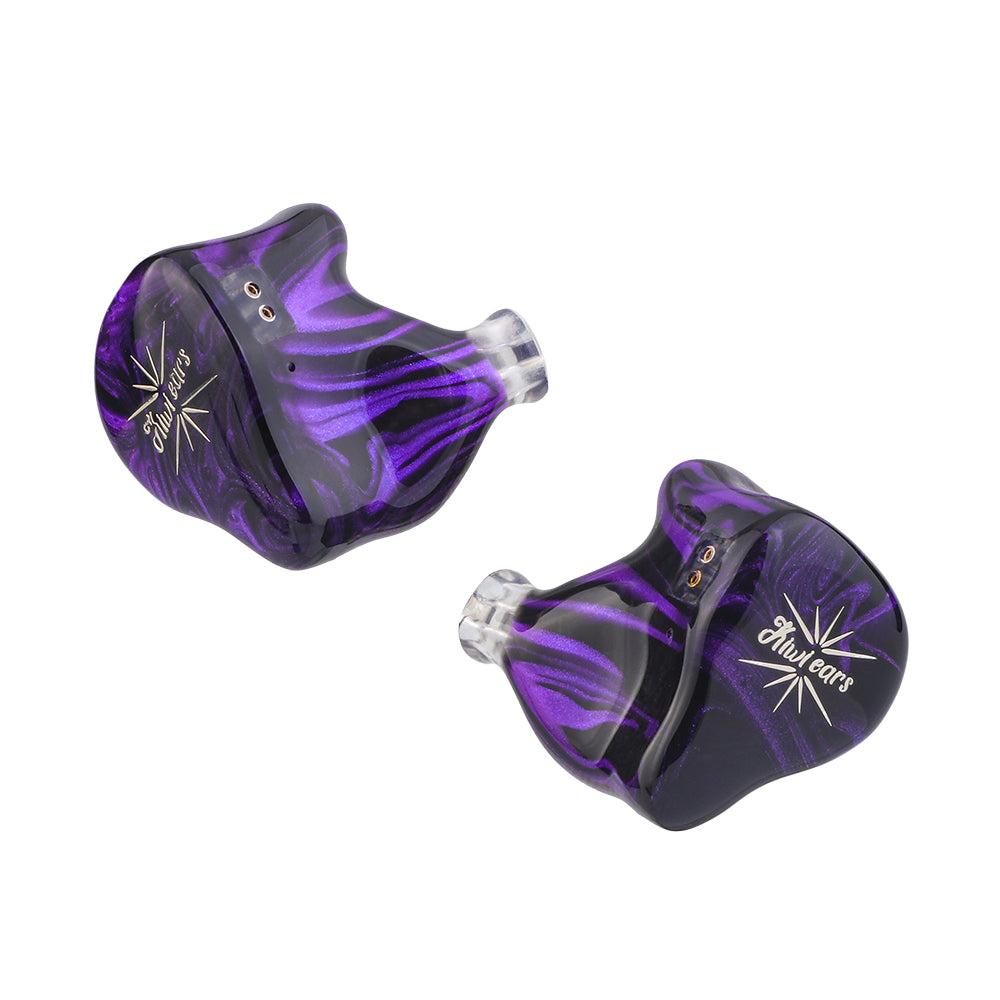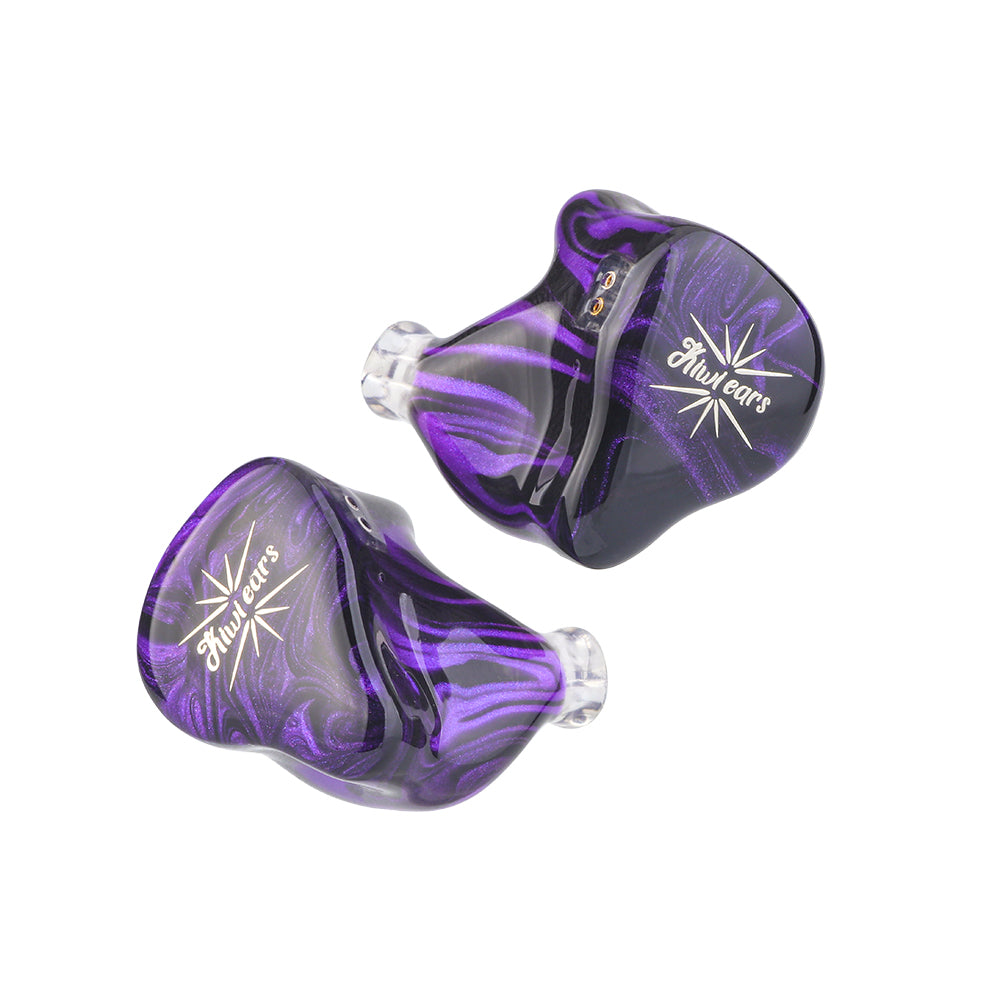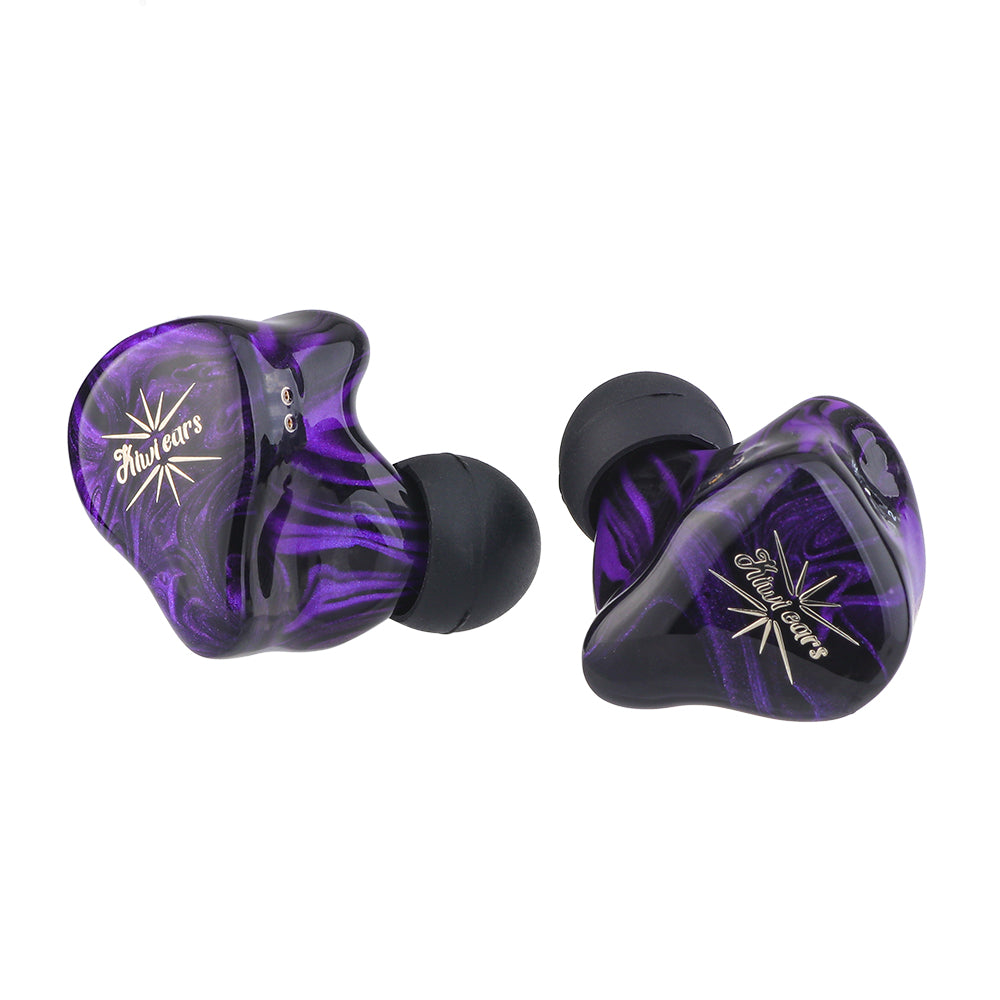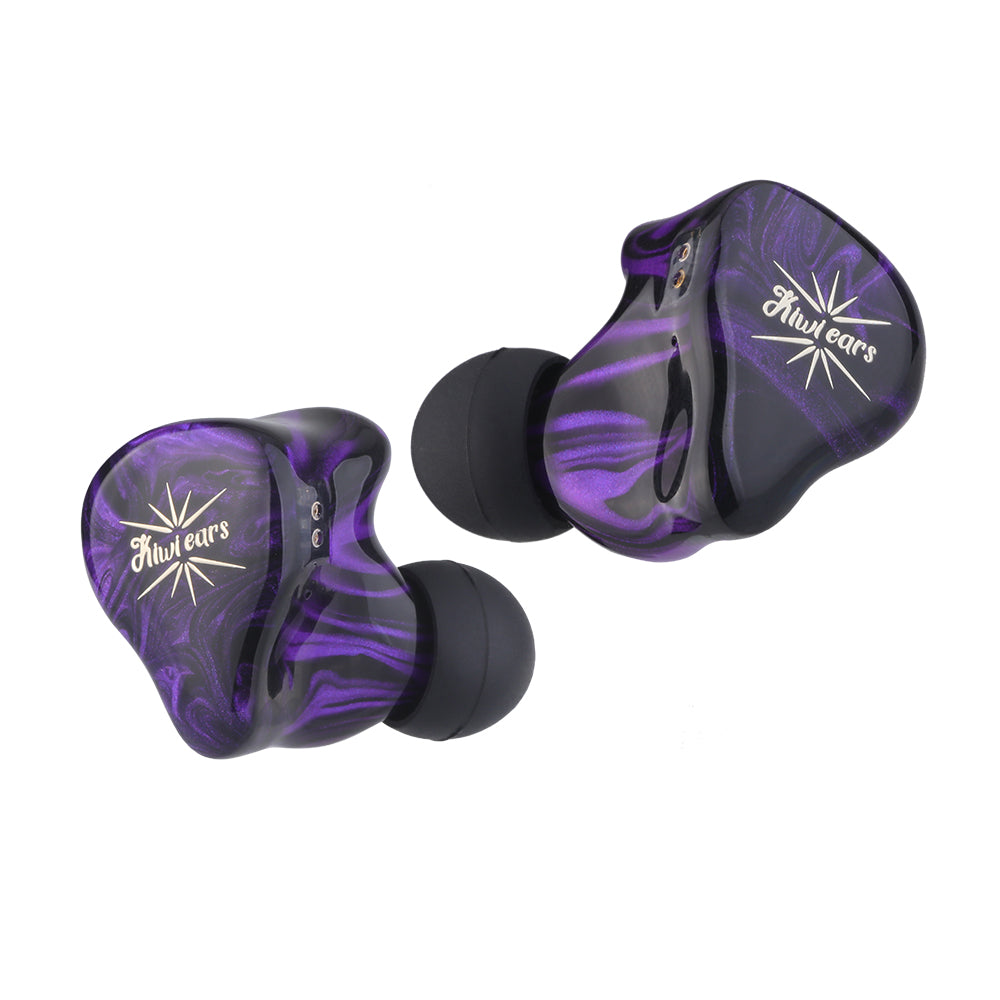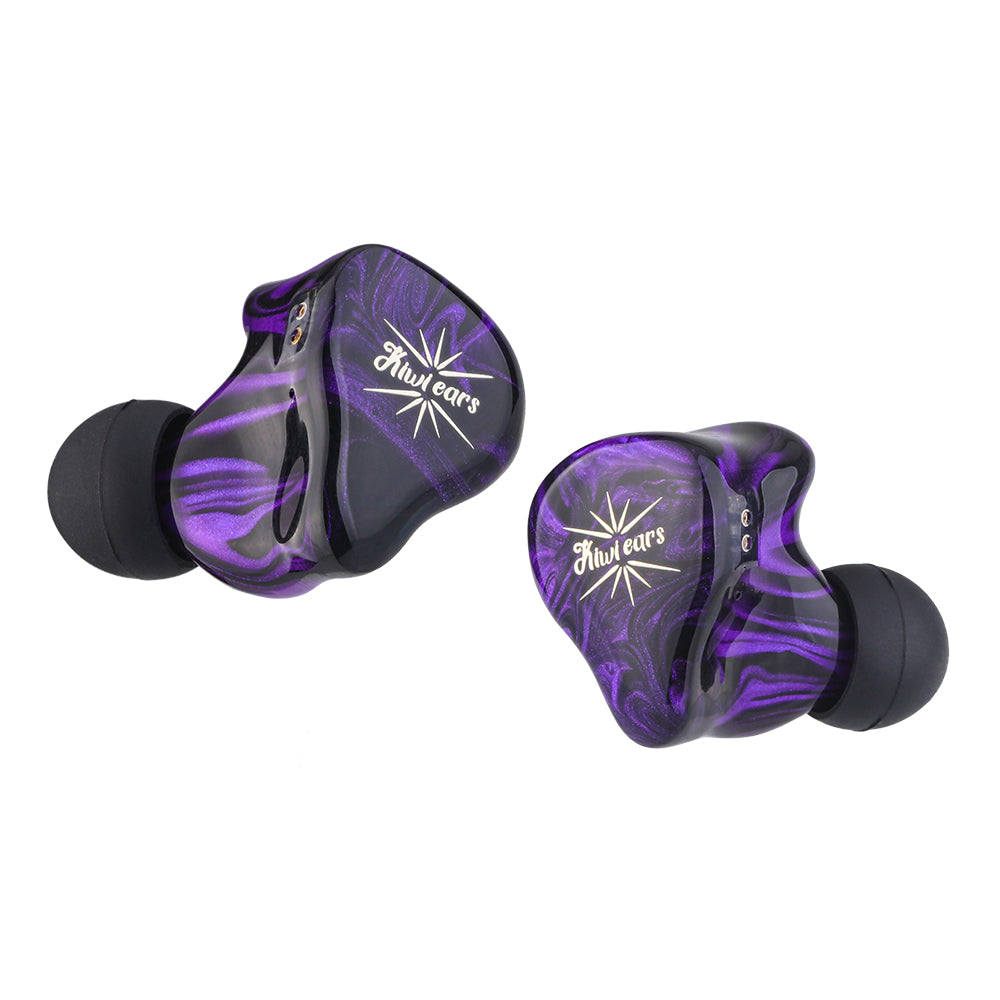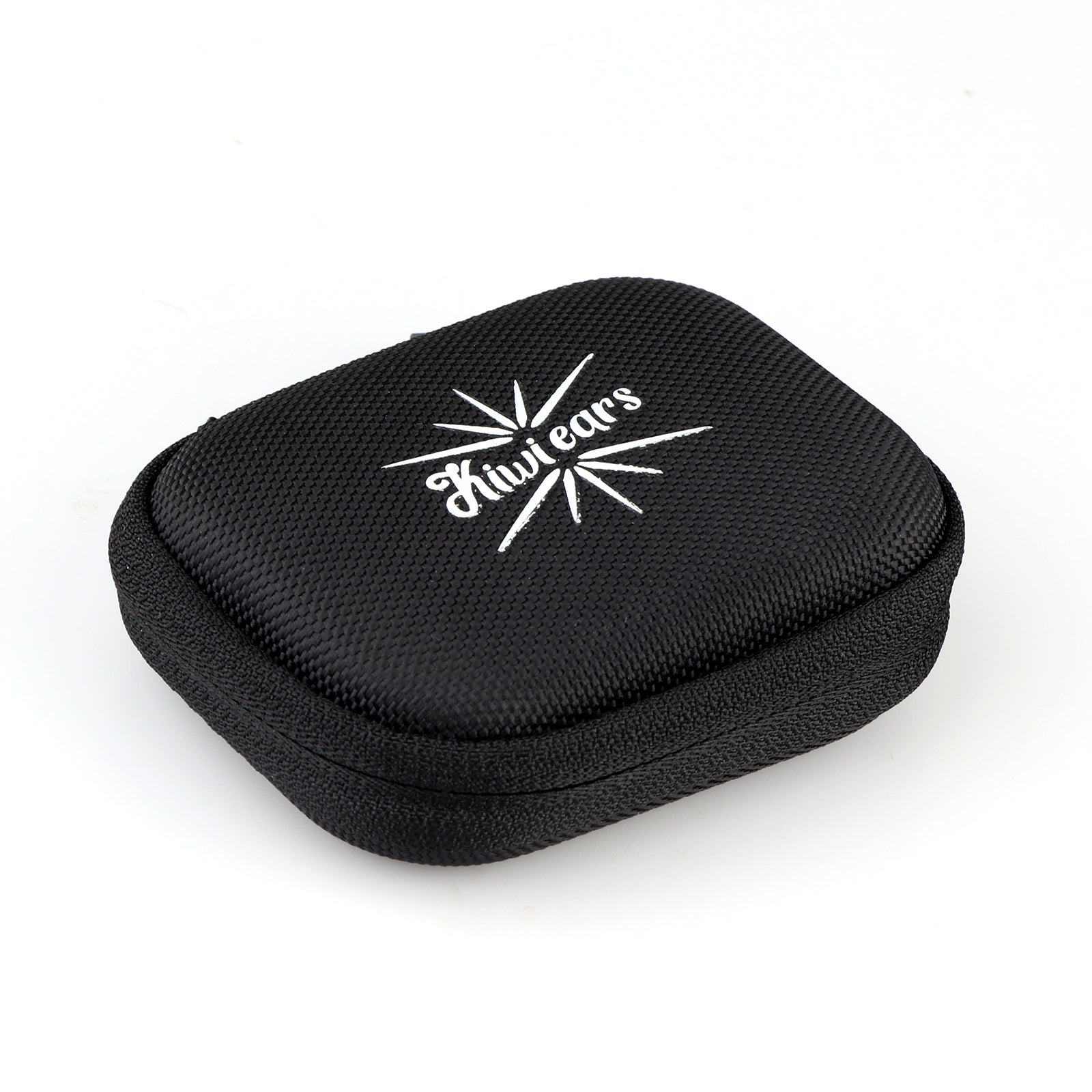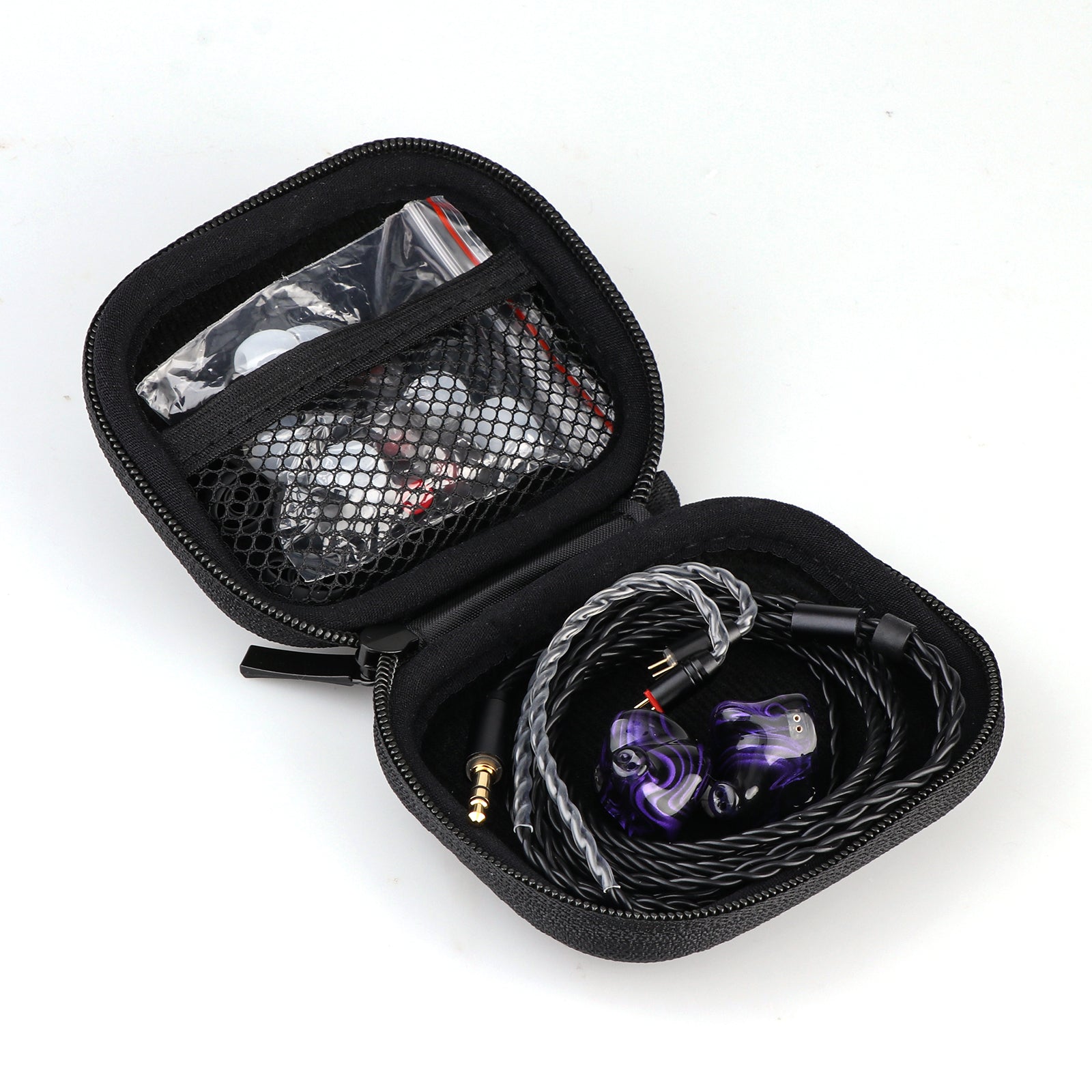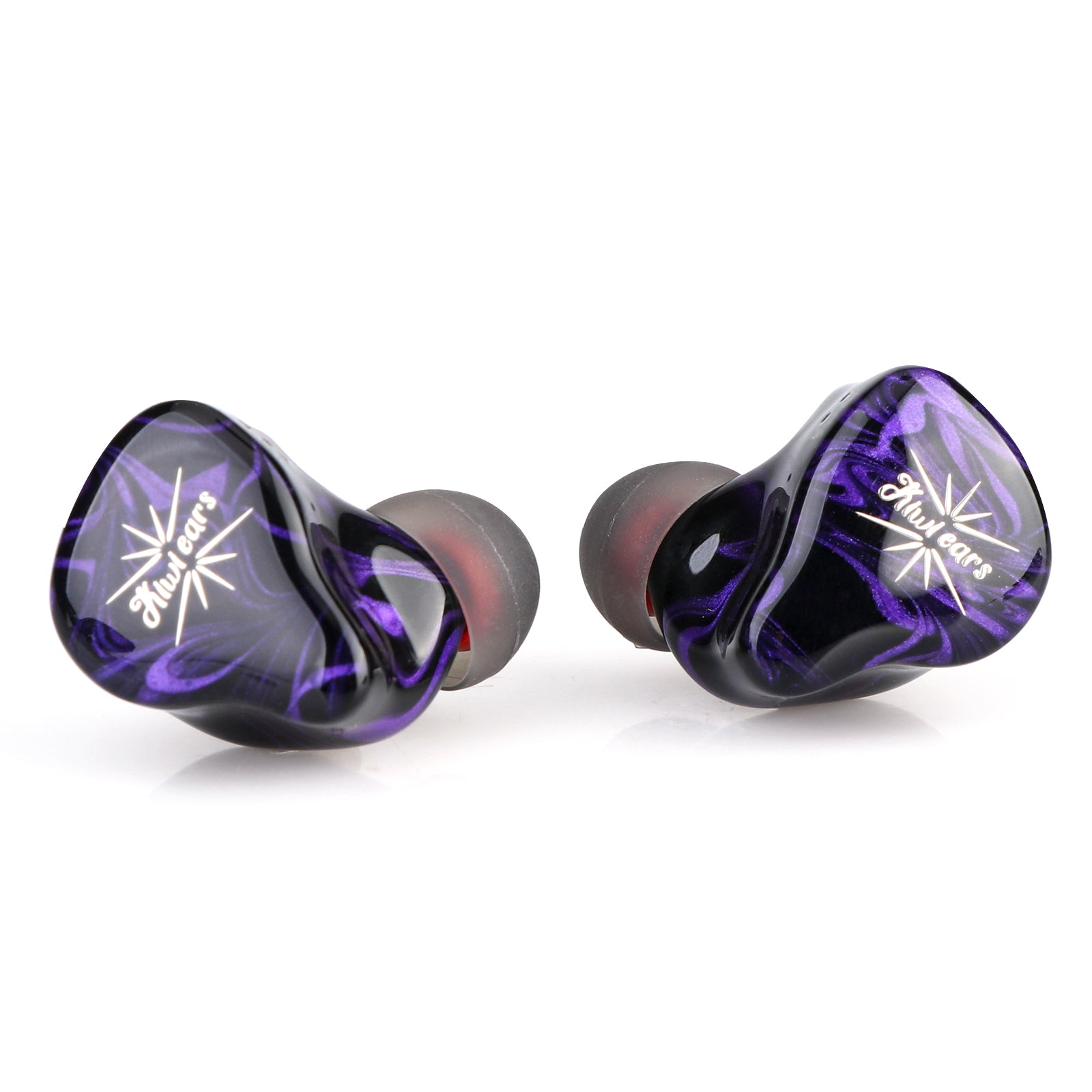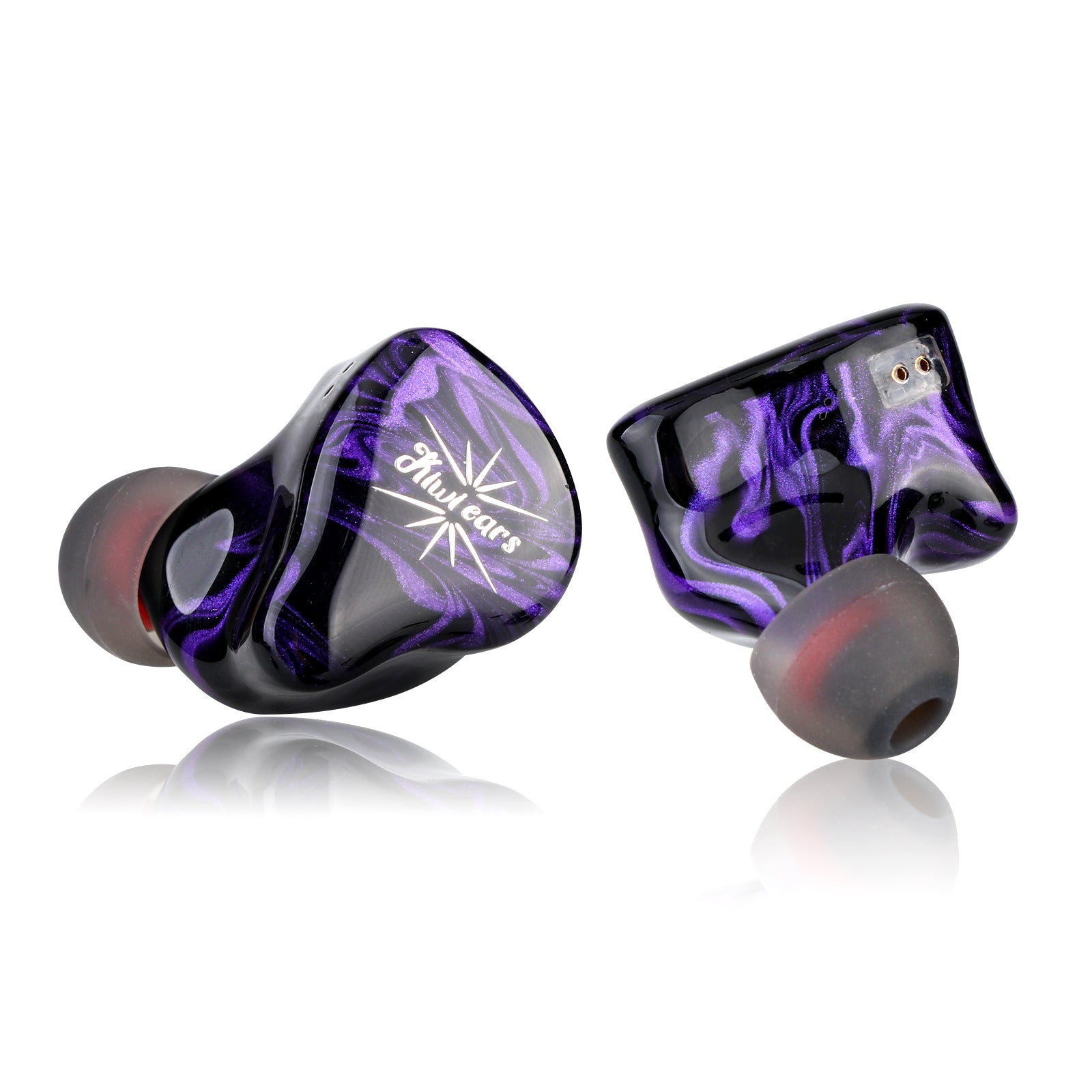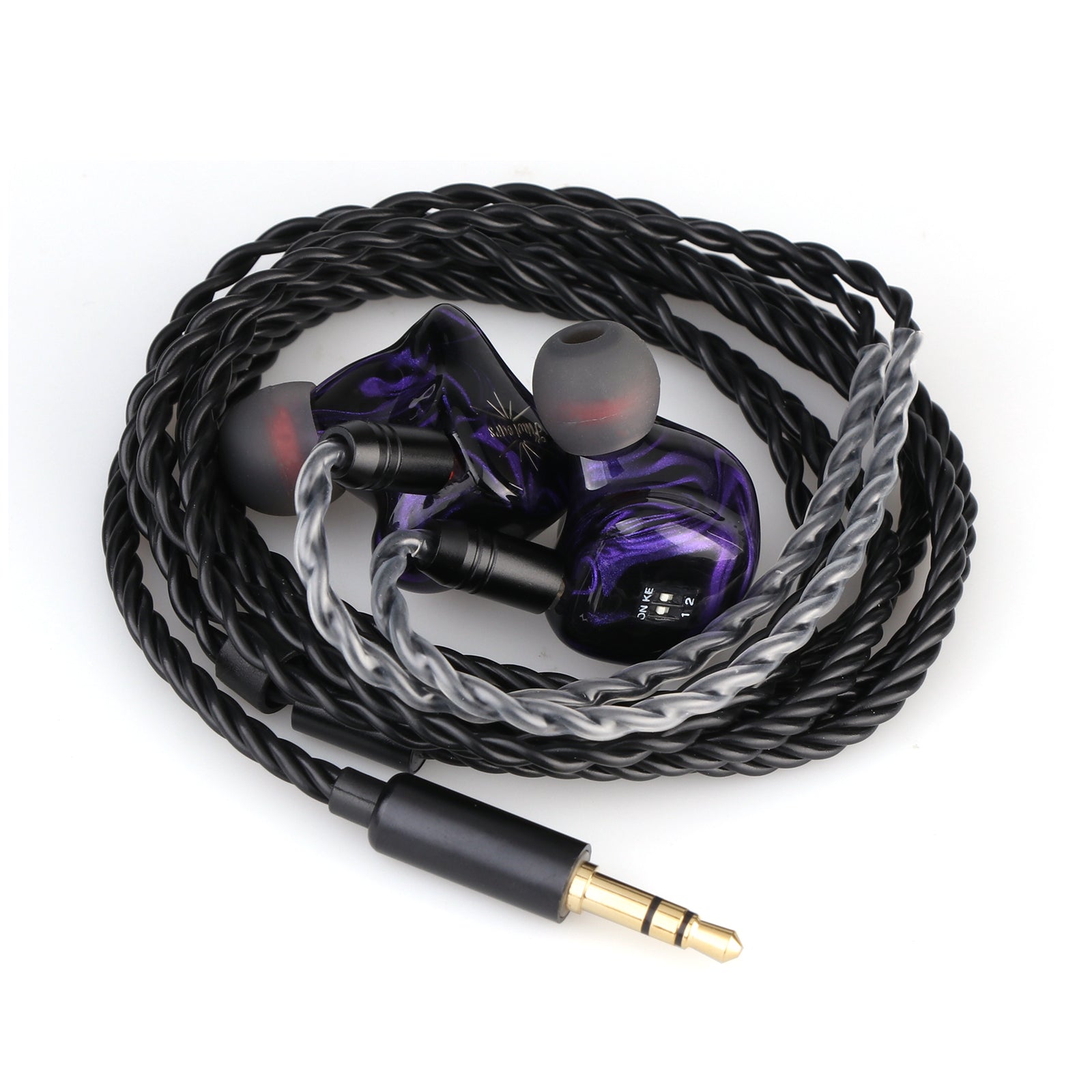 Pre-order Processing time:5-10 working days. All units are provided to us and shipped out in batches, sequentially.
2DD+2BA Hybrid In-Ear Monitor
The Kiwi Ears Quartet was designed around our new coaxial double dynamic driver subwoofer. The innovative driver design utilizes double 10mm titanium diaphragms drivers, each independently driven by dual magnetic circuits.
Regular price
$109.00 USD
Sale price
$109.00 USD
Regular price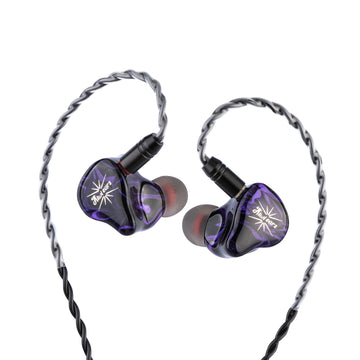 Kiwi Ears Quartet
Regular price
$109.00 USD
Sale price
$109.00 USD
Regular price
Product Description
Technical Specifications
Shipping & Return
Resounding Bass
The Kiwi Ears Quartet was designed around our new sobaric double dynamic driver subwoofer. The innovative driver design utilizes two 10mm titanium diaphragms drivers, each independently driven by dual magnetic circuits. The pair of drivers were passively aligned to be phase synced and prevent soundwave cancellation. This new subwoofer design emits extremely well extended sub-bass kicks that are tighter, faster, and deeper than any other previous woofer designs. The Quartet is Kiwi Ear's answer for all those who want a fun in-ear monitor that will provide all the quality bass one could need.
Harmonious Balance
Although the Quartet is a bass-centric IEM, we still aimed to provide a natural tonal balance. This goal was centered around the need to provide a textured and powerful bass, but without any muddying or dulling in the mids or treble. The dynamic drivers were crossed over using a passive low-pass network at 350Hz to allow plenty of rich and thick bass, while the mids from 350-1kHz were tuned to be completely flat.
This allows an accurate tonality in the mids like that of neutral studio monitors, while giving a hint of warmth in the lower mids. This means the Quartet will sound thunderous in the bass, but still clean and flat in the mids, preventing unwanted bloating found in most earphones. 
Custom Balanced Armature Drivers
The Quartet features a custom mid-high frequency balanced armature and a custom ultra-high tweeter balanced armature drivers. These drivers were modified to fit the balance of the new dynamic drivers by a tuned venting system to provide more airflow. Following Kiwi Ears' tradition, the balanced armatures are passively tuned to fit our in-house target curvature for the mids and trebles. This means the mid-treble provides crisp and clean tone to vocals and instruments, without sounding either dull or nasally. The highs are detailed with plenty of sparkle for professional performance usage, but are natural and free of shrillness or fatigue. 
Recommended Usages
The Quartet can be thought of as neutral studio monitors, but with sub-bass and bass emphasis beginning at 350Hz. This provides a little bit more of body, texture, and richness in the lower mids, but neutral mids and upper mids. The Quartet is perfect for performance drummers and bass guitarists who require powerful and impactful lows. Music enthusiasts who want quality bass but a natural tonality will also benefit from the Quartet's tuning balance. 
About Kiwi Ears
Driven by the pursuit of extraordinary audio reproduction, at Kiwi Ears, we create the perfect amalgam of technological innovations with refined tuning strategies. With musicians and studio engineers particularly in mind, we are on an uncompromising quest to produce the finest professional In-Ear Monitors that will reveal every nuance in your music and performance. Never settling for mediocre, our small team of dedicated engineers handcrafts each unit so that you can worry less about what's in your ears and focus more on the sounds you are making. We are Kiwi Ears, and we're bringing you music heard like never before. 
Hand-Crafted
Each Quartet unit is hand crafted using medical-grade resin, which is cured and polished to perfection. This results in a beautiful finish that is both durable and safe for the skin. 
Premium Cable
The Quartet features a removable 2-pin connector system that allows connections with any other 2-pin cable. The Quartet comes standard with a high-quality oxygen-free silver-plated copper cable that is lightweight and allows noise-free audio transmission. 
Inside the Box
Quartet In-Ear Monitors
High-quality oxygen-free silver-plated copper cable
Variety of Silicone Ear Tips
Carrying Case
DRIVERS
2 x 10mm Dynamic Drivers, 2 x Custom Balanced Armatures
Cable Materal
High-quality oxygen-free silver-plated copper cable.
World-Wide Shipping
Shipping FAQ
Which countries do you ship to?
We are generally able to ship to most countries via Express Shipping, and many countries via Standard Shipping. You may clarify this with our team to check whether Standard Shipping is available to your country.

We cannot ship to addresses that are "PO boxes or APO/FPO".
*Note: Generally, we can only do Selected Shipping to India and Russia. We can only do Express Shipping to Africa, Argentina, Hawaii, Kuwait, Mauritius, Montenegro and Sri Lanka, to name a few.
This may be subjected to changes due to unpredictable issues such as Covid, war, and etc.
How much does shipping cost?
We have two shipping methods - Standard Shipping and Express Shipping.

Standard Shipping is free for most countries, while Express Shipping is 15-35USD depending on your country. If your order is over 270USD, Express Shipping is free*. 

*This applies for most countries. However, large items such as headphones and desktop DAC/AMPs (e.g. HarmonicDyne G200, MUSICIAN MDP-2, and etc.) are excluded.

Shipping fees exclude import taxes or processing fees that may be applicable for your country. Kiwi Ears is not responsible for such fees. Should you refuse to pay the tax/customs fees, shipping fees will still be deducted from the amount paid for the two-way freight charges. The cost of the freight charges may be more than the amount reflected on your order due to tax and other miscellaneous fees.

Some parcels claimed to be "returned to the seller" may be destroyed by the post office or customs officers when buyers refuse to accept their parcels or fail to pay for their taxes. No refund will be processed for such cases.

Standard Shipping via YunExpress is a tax-inclusive option for some countries. However, Kiwi Ears will not be responsible for additional administrative or handling fees charged by your local courier company or customs. Please kindly check this with your local customs.

For certain remote areas, there may be additional charges via Express Shipping. We will contact you if there is a need to make additional payments. 
Please contact us before placing an order, should you have any queries regarding shipping.  
How long does it take to receive the order after it is placed?
For in-stock products, your order will be shipped within 3 working days. You may check with our staff regarding the in-stock status of any products. 
Customized items will take a longer time. Please contact our staff for more information.
On normal non-sale days, once your parcel has been shipped out:
For Standard Shipping, it takes about 2-4 weeks for items to be delivered after shipping out. For some countries, it might take up to 2-3 months, depending on your country, its customs and other factors.* The duration for transit is something beyond our control. Kiwi Ears will not be making refunds for such cases. Please consider an upgrade to Express Shipping or keep the waiting time in mind.
For Express Shipping, it takes about 3-7 days for items to be delivered after shipping out.
*Note: Timings might be affected due to festive seasons or other unforeseen circumstances
What happens if the parcel has been shipped but not delivered?
First, kindly contact your local courier using the local tracking number.
If your parcel were to be in transit for at least 3 months, it may have been lost in transit.
For orders below $50USD, you may either opt for a one-time reshipment of parcel OR a full refund of the amount paid in cash via PayPal/Credit/Debit card.
For orders above $50USD, we will only process a 50% refund of your order paid in cash via PayPal/Credit/Debit card. Should there be any concern about Standard Shipping, you are encouraged to opt for DHL Express Shipping instead.
Customers are to bear the consequences and fees incurred, if the parcel was undelivered due to any of the following situation:

Wrong address or phone number provided by recipient
Recipient was uncontactable when courier company contacted
Refusal to sign for the package by recipient
Lost or damaged parcel because recipient opted for "no-signature delivery"
Refusal to pay for the local tax/processing fee by recipient
Refusal to provide supporting documents for custom clearance by recipient
Who will pay for the import tax/custom fees
Customers have to bear any form of custom/import/processing fees that are applicable for your parcel.
Should you be unwilling to pay for the fees and reject the delivery of the parcel, you will still have to pay for the shipping cost. Kiwi Ears will only refund the amount of your order after deducting the two-way shipping fees incurred.
How do I get help for my order?
Cancellation or/and modification of orders can only be done manually via our staff, provided that our Warehouse Team has not processed your order.
As our Support Team might not be available during non-working days and weekends, please place your order wisely.
Should you really need to cancel or/and modify your order after purchase, please contact us via our support email (Support@Kiwi Ears.com) or website chat. We will help you with the changes if that could be done.

In general, upon receiving your parcel, please confirm the contents of the package and ensure that the package is in good condition before signing for it. All customers are strongly advised to take an unboxing video of their parcel and packaging when opening their parcels and products.

For faulty/missing items, please send an email to support@Kiwi Ears.com for after-sale services. The following details are required.
1) Send an email to support@Kiwi Ears.com with an appropriate Subject Title 
2) Provide your order number and state the issue clearly
3) Attach photos and videos to show that your product is faulty/missing. Shipping details on the parcel packaging have to be clearly visible.

If the photos/videos provided are insufficient to prove the stated issue, we will enquire more. Once the issue has been confirmed, we will arrange for a replacement, partial refund or a full refund (where applicable). For incorrect products, Kiwi Ears reserves all rights in deciding whether you need to return the incorrect item or not. Please kindly contact us via email first. Our team aims to review your email within 3 working days.
For other queries, the fastest way to contact us is via our website or Discord

Kiwi Ears Audio will not be responsible for parcels that have been damaged during the transit process.
Do I get tracking details for my order?
After placing an order, you will receive the order confirmation email. After your order has been shipped out, you will also receive a tracking email. You can track your order via the tracking number online. Should you not have received the emails or face any difficulties tracking your order, please kindly contact us for support.

For more than 1 orders placed under the same account and shipping address, Kiwi Ears will automatically combine the orders and ship them out via one tracking number. Should you have special requests to have the orders shipped separately, please kindly contact us via Discord or our website's chat. We will do our best to help.
What shipping companies do you use?
We collaborate with these courier companies:
Standard Shipping: 4PX, UBI, NinjaVan, and Yun Express
Express Shipping: DHL Express, FedEx and SF Express

Last updated: 1 November 2022